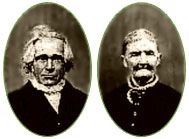 Our Heritage: The Oliver Story- 

"Leonard Oliver was born in Lower Canada in 1803. In 1817 he went to Vermont and lived in Franklin, Chittenden County, until 1833, when he went to Upper Canada lived in Oxford County until 1855, when he moved to Deerfield Township, Lapeer County, where he bought 500 acres of land, and commenced to make a farm. Deerfield at the time was almost an unbroken wilderness, there being but three settlers in it. For a number of years he held the offices of justice of the peace, and highway commissioner. The nearest market at this time was Lapeer, a distance now of twelve miles but then fully eighteen and far more measured by the difficulties of travel." - an excerpt from History of Lapeer County written in 1884. 

Leonard Oliver and his wife Mary had three sons and two daughters, all children grown at the time of their move to Michigan. The story continues with their son, Clark Oliver who was born in east Oxford Township, Ontario, Canada in May of 1835. He proudly served the State of Michigan in the Civil War according to his gravemarker in Deerfield Township Cemetery. Clark Oliver and his wife Helen had three sons and one daughter. 

The eldest of this union, and apparently named after his grandfather Leonard David Oliver was born in March of 1857. In September of 1887 the Register of Deeds shows that Leonard David Oliver purchased 84 acres next to his fathers and grandfathers property, where the present day farm is located. Leonard David Oliver and his wife Lydia had two sons and two daughters (one dieing in infancy.) 

Their son, Roy Oliver was born in May of 1890. Married in 1919 to Agnes Magdalena "Lena", this couple had six children three boys and three girls. 

The Oliver Story continues in March of 1925 when their son, Charles Ervin Oliver was born. in April of 1949 Charles brings his 16 year old bride, Norma Jean home to Deerfield Township. This couple had eight children, four boys (the first was stillborn) and four girls. 

Charles and Norma Jeans's son, Charles Oliver Jr. born in 1958 continues the family farming tradition. Charles Oliver Jr. and wife Debbie raised their three sons and one daughter here. Toni (eldest of Charles Oliver Jr) moved back to Deerfield with her children Hunter and Allison, who enjoys helping great grandma and grandma milk the cows.